The seven Danish government-approved technology institutes (godkendte teknologiske serviceinstitutter) – the GTS institutes – play a key role in the Danish innovation system as the link between technology and business. The institutes seek to make new technological methods applicable to businesses and promote businesses' uptake of new technology.
For many businesses, keeping up with accelerating technological development and implementing new technologies in products and processes can be a major challenge. Investing in new technologies can be both expensive and uncertain – an uncertainty that is particularly difficult for small and medium-sized enterprises (SMEs) to handle.
The GTS institutes therefore have a key role to play particularly for SMEs in the Danish innovation system, because they can ensure better and more efficient use of new research and technology by Danish businesses. In doing so, they increase and promote innovation, productivity, and growth in Danish society.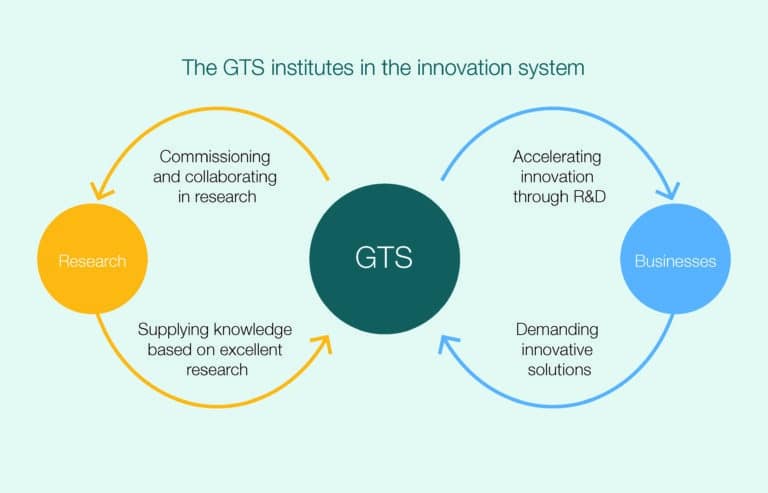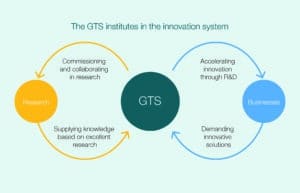 The illustration above is a simplified representation of how the GTS institutes operate in the critical area between national basic research and commercialisation, bridging the gap between research and businesses. This bridging role works in both directions, because the knowledge needs of businesses are translated into research questions. Drawing on their technological insight and their knowledge of the market, the GTS institutes accelerate work with innovation, pave the way for better products and processes, and strengthen the overall competitiveness of Danish businesses.
To support the maintenance and especially the renewal of the GTS infrastructure, the Ministry of Higher Education and Science invest more than € 40 million annually in the institutes' development of technological knowledge. This investment takes the form of performance contract activities which allow the institutes to develop new technological services ahead of market demand and in areas where the market itself cannot or does not meet the need.
Similar systems in most European countries
Most European countries have a system, similar to the GTS institutes, in place. Counterparts include Fraunhofer in Germany, TNO in the Netherlands and RISE in Sweden. Thus the GTS institutes form part of a European tradition whereby technology institutes act as a bridge between research and business. In the European context, these systems are designated research and technology organisations (RTOs).
A large proportion of European RTOs are, like the Danish GTS institutes, members of EARTO (the European Association of Research and Technology Organisations).
Not-for-profit organisations
The Danish GTS institutes are not-for-profit organisations. They are self-owned, impartial, and independent of business or political interests, placing knowledge and facilities at the disposal of all businesses on equal terms. All profits are reinvested in infrastructure, facilities and the creation of new technological knowledge. Approval by the Danish Ministry of Higher Education and Science is necessary to be designated as a GTS institute.
The GTS institutes cover an exceptionally wide range of sectors, including:
Digitalisation
Production and robot technology
Food and agriculture
Materials technology
Electronics and micro-electronics
Ship-building and construction
Water and environment
Biomedicine
Security
Welfare technology.
The seven GTS institutes range in size and also vary in the scope of their international focus, with some institutes focusing primarily on disseminating new knowledge and technology within Denmark, while others are very international in their service offerings and market orientation.
More information? Contact:
Ragnar Heldt Nielsen

Director in the GTS Association